"We went for a week at a condo at Emerald Beach, and we were extremely pleased," Lynn said. "It was just as they said it would be."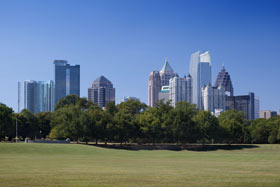 "You could go online and look at the options, so you knew what you were getting," Bill chimed in.
Another wonderful vacation was a cruise, a first for the Meyers. Booking the cruise and other arrangements were simpler thanks to CTA.
"We went out of Mobile," Lynn explained. "All our questions were answered ahead of time. We were a little apprehensive because it was our first cruise, but everything fell into place."
"We had a great time," Bill added. With such great experiences during their first years of membership, the Meyers look forward to much more travel during their retirement years. And there is no doubt they will continue to save money during those vacations.
"They not only give you the best price available, you get a rebate on top of that," Bill said.
The savings are impressive. Bill estimates they saved between $1,500 and $1,800 in just their first year. "I was impressed when I added up the
numbers," he said.
The Meyers are looking forward to trying some of the "hot weeks" Atlanta's Cruise, Travel and Attractions offers, when prices are exceptionally reasonable. They have also shared their experiences with friends, many of whom "are in awe," according to Lynn. "We're glad we took a bit of a risk to join, because the results have been great," Lynn added.
Bill agreed wholeheartedly. "It's a good deal," he said.